Updated February 2, 2023 - 5:26 pm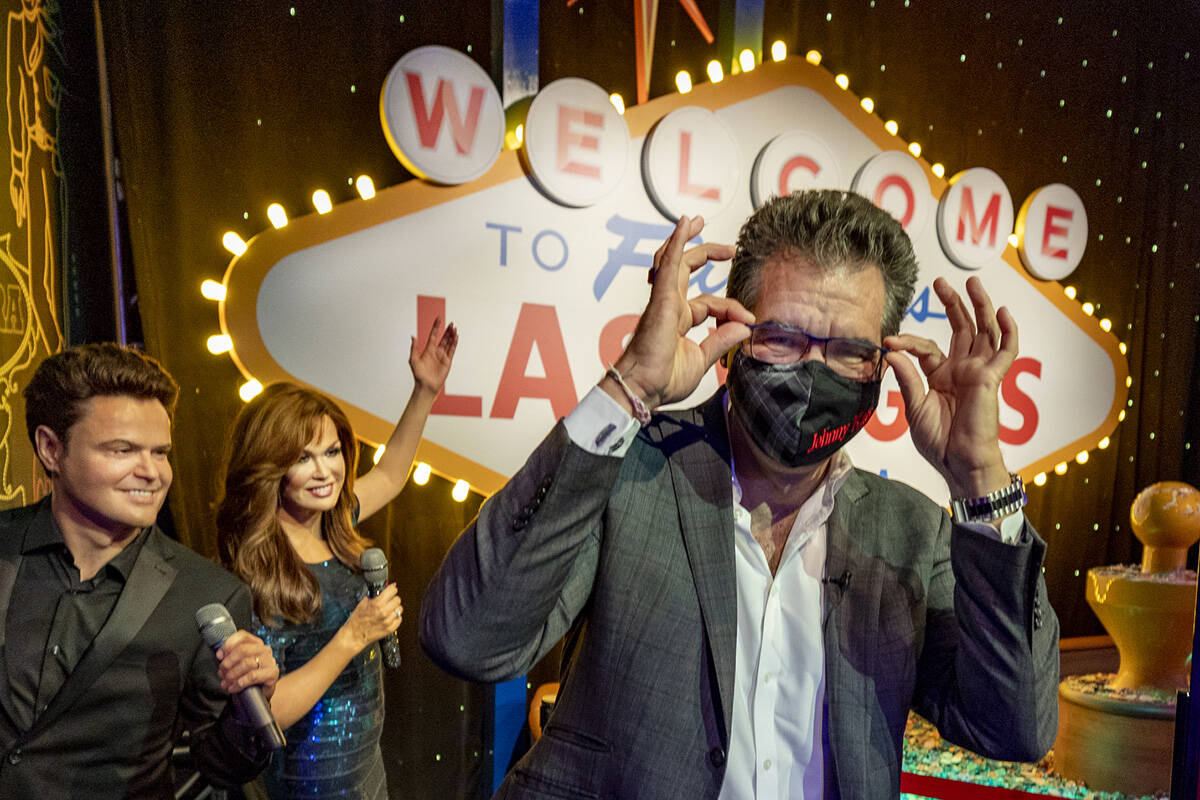 Looking for the coolest hangs in Las Vegas? They're not always where you think. John Katsilometes has you covered with the hippest spots in town, on and off the beaten path. See below for Kats' newest and most righteous suggestions:
Ashley and Aaron Fuller at Brad Garrett's Comedy Club
Ashley and Aaron Fuller's ensemble continues to serve as the house band at Brad Garrett's Comedy Club from 7-8 p.m. and 9:30-midnight on Fridays and Saturdays. Fun follows funny at BGCC.
Dennis Bono at South Point Showroom
Venerable Vegas vocalist and host Dennis Bono celebrates the 23rd anniversary of his eponymous simulcast variety show 2 p.m. Thursday at South Point Showroom. Legendary impressionist Rich Little, Frankie Scinta, Chris Phillips of Zowie Bowie, Vinny Adinolfi of Bronx Wanderers, Lorena Peril of "Fantasy," comic-songwriter Dennis Blair, ex-"Jersey Boys" and "Bat Out of Hell" cast member Travis Cloer, pop-opera vocalist Giada Valenti, and the great Lorraine Hunt Bono (who opened, and closed, the Landmark) are all on the bill. Corrie Sachs is the singing sidekick. Tickets available at South Point box office, call 702-797-8055 for intel. As we say, that's amore.
'Hitzville The Show' now at The Duomo
VegasVille production "Hitzville The Show" has moved out of V Theater and is now performing at The Duomo at Rio. Next show is 6 p.m. Monday, Feb. Tickets start at $40 (or thereabouts) for this Motown-driven production. For info, go to Caesars.com and drill through the options.
Las Vegas Jazz Syndicate at Hard Hat Lounge
Live music is heating up — heating, I tell you — at the Hard Hat Lounge at 1675 South Industrial Road, which hosts the Las Vegas Jazz Syndicate from 10 p.m.-1 a.m. during its Monday Industry Nights. No cover, go to hardhatloungelv.com for info, and try the pizza.
Serena Henry Band at The Stirling Club
The Serena Henry Band plays Spirits Supper Club at The Stirling Club from 8 to 11 p.m. (doors at 7 p.m.) Friday. Henry has toured as a backing singer for Smokey Robinson and Gladys Knight. You might also recognize her as a vocalist for David Perrico and the Raiders House Band. Go to TheStirlingClub.com to book.
Massive returns to Sand Dollar
Elvis Lederer's Unique Massive is back at Sand Dollar Lounge at Polaris and Spring Mountain from 10 p.m.-2 a.m. Wednesday. The band is closing in on 20 years in VegasVille, with guitar great Lederer performing with Mike Gonzales (trumpet), Matt Green (keys), Wickett Pickett (bass), Chris Foster (drums). No cover. As always, try the pizza.
Mondays Dark plays Katy Perry
Mondays Dark kicks off its 2023 schedule with music of Katy Perry at 8 p.m. Monday at The Space. Mark Shunock is back as emcee. The band blazes, the roster is filled with top singers, and the theme should invite rampant frivolity (especially if someone dresses as Mr. Poo). Tickets for the benefit for Project Inclusion are available at MondaysDark.com.
442's rockin' at Red Rock
Ace rock outfit The 442's play Rocks Lounge at Red Rock Resort at 8 p.m. Friday (Jan. 27). Lifehouse and Savage Garden guitarist Ben Carey, and Southern singer/guitarist Justin Carder founded this tight, inventive rock-cover band. Always worth a look-see. No cover, gotta be at least 21 years old. The groove deck is open.
Page performs at Duomo
Steven Page is playing The Duomo at the Rio on Saturday night. Barenaked Ladies fans know him as co-founder of the great Canadian rock band. Page left BNL in 2009 for a solo career and headlines with his trio at the Rio at 8 p.m. Go to ticketmaster.com for info.
'Big Elvis' at Harrah's
Pete "Big Elvis" Vallee has just extended his residency at Harrah's Piano Bar for two years. Vallee opened at Harrah's in May 2012, moving over from Bill's Gamblin' Hall & Casino as it was being re-branded as Cromwell. Vallee headlines Piano Bar at at 2, 3:30 and 5 p.m. Mondays, Wednesdays and Fridays. He's also still the host of the "Blue Hawaii"-themed show at The Golden Tiki lounge in Chinatown at 3939 W. Spring Mountain Road from 4 to 7 p.m. the first Tuesday of every month. No cover for any of this. Bring your own lei.
Martini at The Shag Room
Vegas Top-40/funk/R&B vocalist Mecca Martini is featured at 9 p.m.-1 a.m. Fridays and Saturdays at The Shag Room at Virgin Hotel. No cover for this one. We grooved it up regularly with Martini when she backed Matt Goss at Caesars Palace. Shag Room is chic, Martini wonderful, and the price is right.
Karaoke at Hard Hat
The Hard Hat presents karaoke, from 10 p.m.-close every Wednesday. We recommend "That's Life," by Sinatra, and the pepperoni, by Guerilla.
Big names at the I Bar
How about a CHA "quad" at the Westgate: NPerson, the R&B couple of Sean and Brandon Godfrey, play International Bar from 8 p.m.-11 p.m. Wednesday (the Godfreys are also co-stars of "Soul of Motown" at Westgate Cabaret). High Rocktane is up 8 p.m.-Midnight on Thursday. Block Party, which brings the party, is from 8:30 p.m.-12:30 a.m. Friday and Saturday. The I Bar is easy to find, just off the main entrance. No cover.
For Miles and Miles
Column and Kats family fave Skye Dee Miles' "Midnight Skye — The Revival," at Ghostbar at the Palms, has moved to 10 p.m. to 2 a.m. Wednesdays and Thursdays, beginning … now! Miles' show is a musical, and spiritual, experience. Ghostbar's new hours are 7 p.m. to 2 a.m. Wednesdays and Thursdays, 9 p.m. to 4 a.m. Fridays and Saturdays. Get there — then hop on the elevator. No cover.
Dueling pianos at Eastside Lounge
Eastside Lounge animates the scene with dueling pianos from 9:30 p.m.-1:30 a.m. Sundays through Thursdays, and 9:30 p.m.-2:30 a.m. Fridays and Saturdays. Keyboard great Chris Lash ("Jersey Boys," "Baz,") is the primary performer performer most nights. No cover. No tank tops, either.
Sonny Charles at Bootlegger Bistro
Vegas lounge legend Sonny Charles keeps hinting at retiring, yet keeps … not retiring. You cannot keep this man from performing. He's back at Bootlegger Bistro at 9 p.m. Mondays. No cover. Don't bother shouting, "Sing 'Black Pearl,'" because you know it's coming. Oh, and try the veal.
Waters at Eight
Vocalist Sage Waters hosts "Meet Me at Eight" live-music and cigar hangs at Eight Lounge at Resorts World every Wednesday. What would the start time be? At 8 p.m. Easy to follow. No cover. Light it up.
.
Bobby Kingston Band plays Saddle N Spurs Saloon
The Bobby Kingston Band kicks it up — kicks, I tell you! — from 7 p.m.-11 p.m. Fridays and Saturdays at Saddle N Spurs Saloon at 2333 N. Jones Blvd. Ste. 108 (southeast corner at Smoke Ranch Road). No cover, and karaoke goes from 11 p.m. until "late," so hey, party.
3 ingredients
Tap N Ash Social Club at 1606 South Commerce St. hosts "Cigars, Bourbon and Jazz" at 7:15 p.m. Fridays (seating begins at 6 p.m.). Enjoy a smoke and some of the brown libations (or, if you will, citrus-infused FizzyWater). We have taken a spin through this stylish new haunt in the Arts District. We are confident we will enjoy some Cool Hangs with these folks. "Great music, better cigars," is the motto. No cover. Call 725-204-5254 or go to tapnashlv.com for more info.
Big Elvis continues residency
Pete "Big Elvis" Vallee continues his residency at the Piano Bar at Harrah's at 2, 3:30 and 5 p.m. Mondays, Wednesdays and Fridays. Vallee also hosts the "Blue Hawaii"-themed show at The Golden Tiki lounge in Chinatown at 3939 W. Spring Mountain Road from 4 to 7 p.m. the first Tuesday of every month. No cover for any of it.
.
Davidsen at Neonopolis
Cool Hang Alert Hall of Famer Kenny Davidsen is tinkling the ivories — tinkling, I tell you! — at Don't Tell Mama's at Neonopolis 8 p.m. on Wednesdays and Saturdays. Closing at 2:30 a.m. on Wednesdays, 3:30 a.m. Saturdays. Stay for the whole show. I dare you. No cover, ever, at Mama's. No more pizza, though. The Little Oven That Could is also a pandemic casualty.
Sax specialist at Notoriety Live
Sax specialist Justin Young kicks it up at Notoriety Live's Robin Leach Lounge the last Sunday of every month. Tickets are $25, $35, $45 (not including fees), go to NotorietyLive.com for details. And drop Dave Koz's name, if only just to fit in.
Adult comedy shifts
"The Dirty at 12:30" rumbles along, having moved temporarily to South Point Showroom from Grandview Lounge. The adult comedy showcase runs every Friday, doors at 11:59 p.m. Expect material to be delivered in explicit language. Guests must be 21-over to attend. NO cover, but hit the bar to support the cause and go to dirtyat1230.com for more info.
Master harpist at Bootlegger Bistro
The remarkable artistry of Mariano Gonzalez, master harpist, is featured 6:30 p.m.-9:30 p.m. Wednesdays and Thursdays at Bootlegger Bistro. Gonzalez performs ambiently, and beautifully, during dinner. Every once in a while he slips in something remarkable. One night, I swear, he softly played a Led Zeppelin song. I think it was "When The Levee Breaks." So, get there. No cover.
Surf stylings at Golden Tiki
Enjoy the instrumental surf stylings of Thee Swank Bastards at 9 p.m. Monday (and, every Monday) at The Golden Tiki. For ages 21-and-over. Leis and Hawaiian shirts unbuttoned to the naval are optional, but recommended. No cover. Toss some tips their way and watch the tide roll in.
John Katsilometes' column runs daily in the A section. His "PodKats!" podcast can be found at reviewjournal.com/podcasts . Contact him at jkatsilometes@reviewjournal.com. Follow @johnnykats on Twitter, @JohnnyKats1 on Instagram.