Las Vegas is Perez Hilton's family destination
Updated February 4, 2023 - 8:10 pm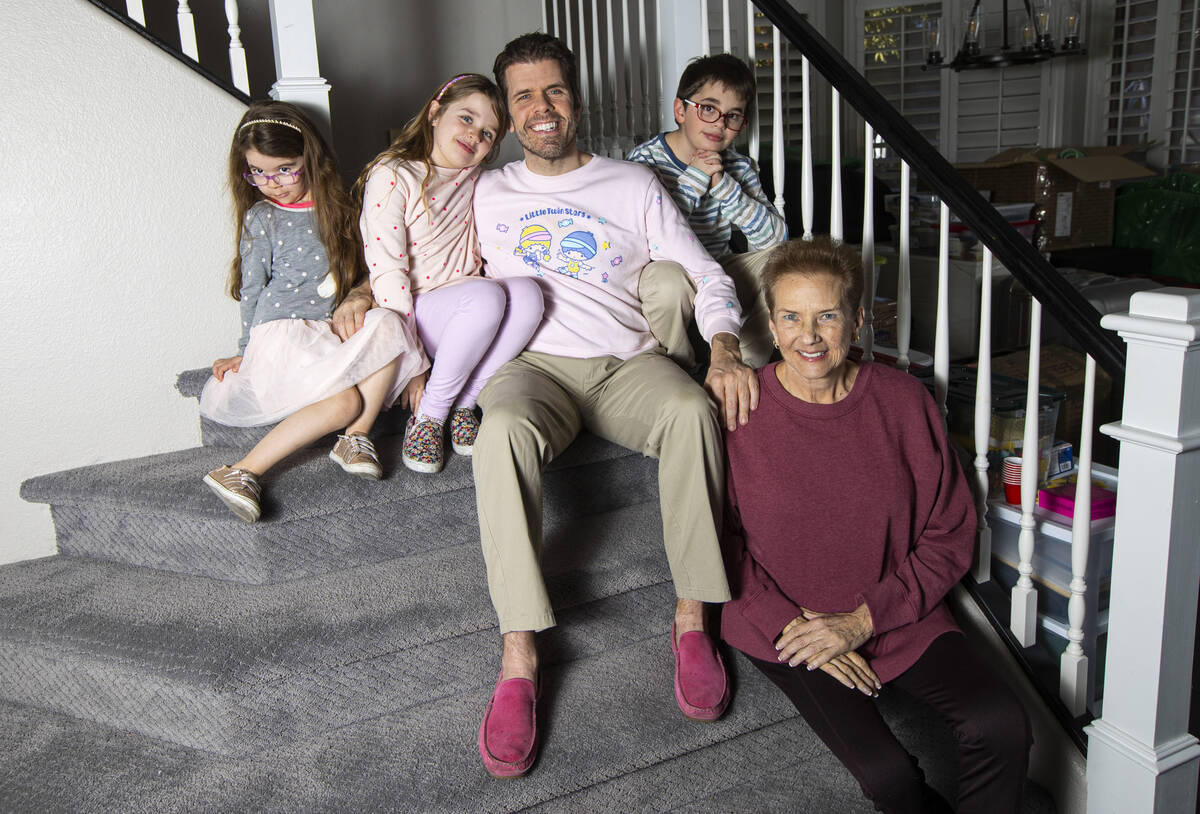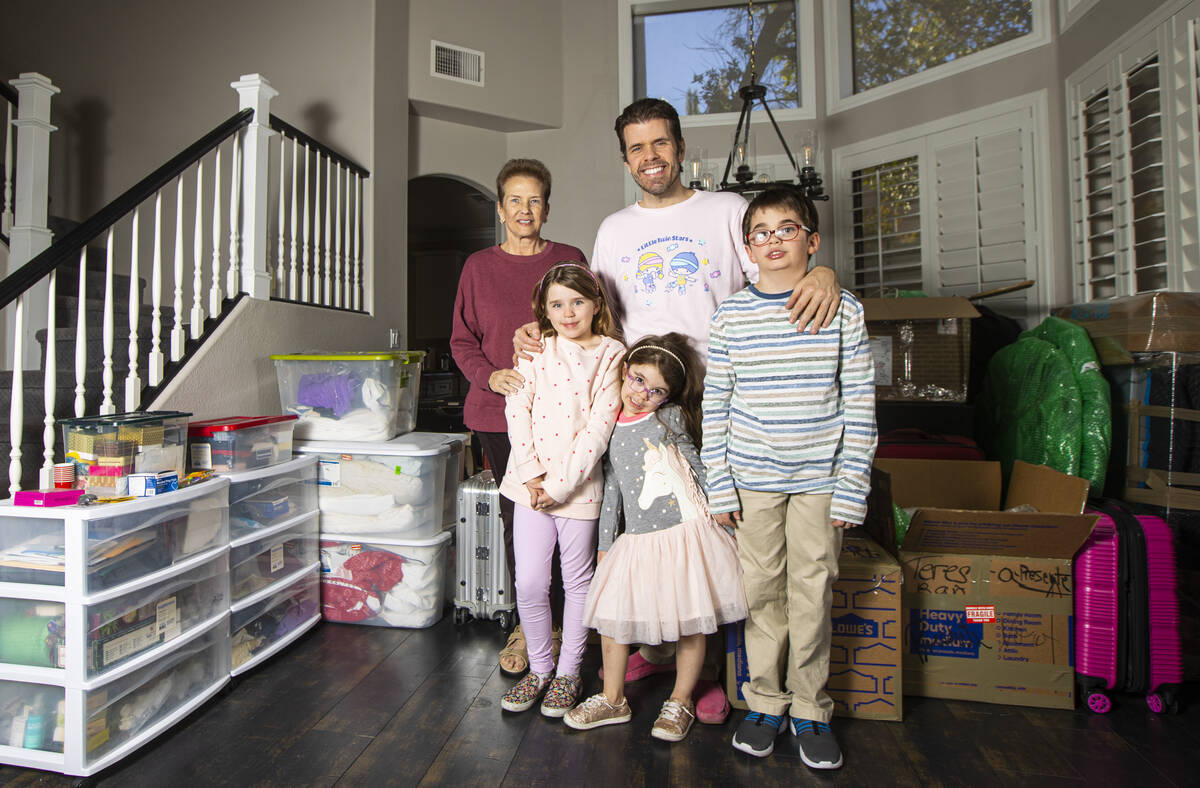 The table guest is so clearly a Madonna fan. He can't contain his zeal. He talks excitedly about seeing her in concert, some years ago. He didn't really like the part where she played guitar, but generally, he's a huge fan.
His voice ascending, he continues, "So, she invites me backstage! and tells me she has always wanted to meet me … Oh my God! Can you imagine?"
Heads begin to turn. This person is somebody.
Perez Hilton is that somebody, and the famous Peppermill is the restaurant. Hilton is becoming ingrained in his new hometown.
The trailblazing celebrity journalist who wrote a blog before "blog" was even a universal term is indeed a local. Hilton and his family moved to Las Vegas at the start of January. This is his mother, Teresita; son, Mario (9); and daughters Mia (7) and Mayte (5). The decision was made collectively, over about a four-year period.
It all started over two months in 2018, when Hilton was stunt-cast as the guest host of "Chippendales." As he emceed the rollicking male revue, Hilton himself was exposed — to the other side of Las Vegas.
"I got to really experience Vegas as a local, and I was loving it," Hilton says. "I almost bought a house that at the end of that summer, but decided not to. Ever since then it was in the back of my mind, just percolating."
Hilton took to social media to ask the open question, "Should I move to Las Vegas?" Those who lived here told him he should. He also spoke to his therapist, measuring whether he should roll the bones (as they say in these parts) or wait until his kids graduated from high school.
"My therapist was like, 'Why? If you want to move there now, you can,'" Hilton says. "I thought about it, we talked about it. I don't know if there is ever a good time to move for children, but I would say now is better than high school."
Hilton's mother was born in Cuba. The family was impressed with that culture's representation in Las Vegas.
"I'm not even sure if a lot of locals really know this, but Las Vegas has a really large Cuban community, which doesn't exist in Los Angeles," Hilton says. "There are so many Cuban restaurants, Cuban and Latino supermarkets. L.A. has a larger Latino population, but those markets are like in the valley, far from me."
Being a celeb journalist, Hilton is naturally drawn to the scads of superstar headliners playing Las Vegas. This includes Madonna, playing two shows at T-Mobile Arena in October.
Hilton has been at this since developing PerezHilton.com (originally titled PageSixSixSix.com) nearly 20 years ago. The site has drawn more than 300 million hits a month. He remains the owner and editor-in-chief of that website. Forbes named him the top Web Celeb from 2007-2009. People en Español has named Hilton (born Mario Armando Lavandeira Jr.) among the 15 most influential Hispanics in the country.
Hilton's relocation to Las Vegas a natural progression, and he can still make quick trips to L.A. for events there. Fertile material bubbles over in both cities.
"Vegas has always been an entertainment capital of the world, and I think it's going to be even more so going forward," Hilton says. "I mean, even Mark Wahlberg moved here last year and he claims he wants to build a studio here."
Hilton would love that action. At 44, he still has the fire to cover celebrity culture, though he fights the urge to be "a hermit in Las Vegas." By his own claim, he's the internet's most notorious gossip columnist. In the months prior to relocating, he took after Caesars Entertainment PR reps for not escorting him to a VIP section for a photo with culinary icon Martha Stewart at the grand opening of The Bedford at Paris Las Vegas.
Scroll through Hilton's IG feed and you'll find rambunctious commentary of the day's celeb events. See him preening in front of a Chicago news report about Kelly Rowland and Michelle Williams, late of Destiny's Child, who "don't like being asked about Beyonce." Hilton asks, "Should King Charles invite Prince Harry and Meghan Markle to his coronation?"
Find all of the in-depth coverage on The PHP, the Perez Hilton Podcast, co-hosted by veteran broadcast personality Chris Booker on PerezPodcast.com.
Hilton has also worked his way through some under-the-carriage, hangouts in Las Vegas. He attended "Hedwig and the Angry Inch" at Majestic Repertory Theatre (plus-one of yours truly) in the Arts District. He's hit the Smith Center and Cheapshot on Fremont East. He's become a fan of Esther's Kitchen downtown, and La Neta Cocina y Lounge in Downtown Summerlin.
The kids like the Dig This equipment playground, as Hilton's family is making the rounds.
As we make our way out of Peppermill, a couple approaches. "We know you are someone," the gentleman says. "I can't place it. But I never forget a face."
Hilton says, "I hosted 'The Bad Girls Club.' It that it?"
"Yes!"
Later, Hilton just laughs. "I've had a long and eclectic career."
Cool Hang Alert
Get this going, VegasVille music fans. Santa Fe & The Fat City Horns returns to Copa Room at Bootlegger Bistro at 7:30 p.m. Monday, with the wonderful (I say, authoritatively) Steph Payne as guest vocalist. Payne also appears regularly at Delilah at the Wynn and Bootlegger restaurant (10 p.m. Fridays). Monday's show is live-streaming at santafeband.com.
John Katsilometes' column runs daily in the A section. His "PodKats!" podcast can be found at reviewjournal.com/podcasts . Contact him at jkatsilometes@reviewjournal.com. Follow @johnnykats on Twitter, @JohnnyKats1 on Instagram.